We are Dealer, Trader, Specialists, Supplier, Importer, Wholesale, Stockist of Panel Locks, Panel key Locks, Industrial Panel Locks, Electrical Panel Locks, Steel / Stainless Steel (SS) / Aluminum / Plastic Panel Locks, Panel Door Locks, Cam Locks, Compression Locks, Quarter-Turn Locks, Combination Locks, Rotating Cam Locks Used In Industrial Equipment, Electrical Enclosures, Transportation Vehicles, Single Point Locks (Lock Sets), Locking Systems, Cabinet (Cupboard) Doors, Three (3) Point Locks (Locking / Lock Systems), Multi Point Locks Cabinet (Cupboard) Or Locker Doors, Keys, Key Locks, Knob With Key Locks, Knob Locks, Canopy Locks, Nylon Panel Keys, Panel Key Square / Triangle Locks, Round Panel Key Locks, Panel Key Locks, Panel Lock with Keys, Panel Lock Knobs, Knob Panel Locks, Panel Lock With Nylon Knobs, Canopy Locks / Canopy Door Locks, 3 Three Point Lock Die Cast Swing Handle With Flat Rods, 3 Three Point Lock Die Cast Swing Handle With Round Rods, 3 Three Point Lock Die Cast Push To Open, L Handle Die Cast With 3 Three Point Cam, T Handle Die Cast With 3 Three Point Cam, Die Cast Panel Locks, Control Panel Door Locks, Die Cast Key Locks, Die Cast Panel Lock Triangle Insert, Panel Key Round Insert, Panel Lock Square Insert, Panel Lock Triangle Insert and our setup is situated in Pune, Maharashtra, India.
Panel locks are locking mechanisms that are designed to secure access panels or doors to prevent unauthorized access or tampering. They are commonly used in various applications, including industrial equipment, electrical enclosures, and transportation vehicles.
Panel locks come in a variety of types and styles, including cam locks, compression locks, quarter-turn locks, and combination locks. Cam locks are one of the most common types of panel locks, featuring a rotating cam that secures the panel in place. Compression locks use a threaded shaft to compress a gasket or seal against the panel to create a tight seal. Quarter-turn locks use a key to turn a quarter of a circle to lock or unlock the panel, while combination locks use a combination of numbers or letters to secure the panel.
Panel locks are typically made from durable materials such as steel, aluminum, or plastic and are designed to withstand harsh environments, including extreme temperatures, moisture, and vibration. When selecting a panel lock, it is important to consider the application and the level of security required to ensure that the panel is properly secured.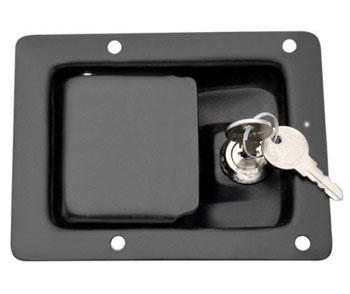 Single Point Locks
Single-point locking is a locking system in cabinet doors where locking takes places only at the point halfway up the edge of the door.
where the latch engages with the door jamb.
Three Point Locks
Three-point locking, or a multi point lock is a locking system installed in cabinet or locker doors to enable more secure locking.
Three-point locking enables the top and bottom of the door to be simultaneously secured.
Keys
Key Locks
Knob With Key Locks
Knob Locks
Canopy Locks